Coming Soon
Starts Friday, March 31
Rated R
147 mins
CC DV
Musical, Drama
What do Donna Summer, Parliament, Gladys Knight, The Isley Brothers, The Village People, and Bill Withers all have in common with the rock band KISS?  They all rose to their musical heights under the watchful ear of the music industry's most colorful and brilliant music producer, Neil Bogart, founder of Casablanca Records, the most successful independent record company of all time.  In a story so unbelievable that it can only be true, comes the motion picture event of the musical journey of Neil Bogart and how his Casablanca Records created the greatest soundtrack of our lives. Some of today's hottest music stars are playing the icons who inspired them and singing their most popular songs including Grammy and Golden Globe nominee Wiz Khalifa as George Clinton, Jason Derulo as Ron Isley of the Isley Brothers, Pink Sweat$ as Bill Withers, Grammy Award nominee Tayla Parx as Donna Summer and multi-Grammy winner Ledisi as Gladys Knight…MORE INFO
Friday, March 31
Starts Friday, March 31
Rated R
127 mins
CC DV
Drama
"A love letter to mothers, sons, and hustlers of NYC." A.V. Rockwell's A THOUSAND AND ONE is only in theaters March 31, winner of the Grand Jury Prize at the Sundance Film Festival. A THOUSAND AND ONE follows unapologetic and free-spirited Inez (Teyana Taylor), who kidnaps her six-year-old son Terry from the foster care system. Holding onto their secret and each other, mother and son set out to reclaim their sense of home, identity, and stability, in a rapidly changing New York City…MORE INFO
Friday, March 31
Rialto Family Matinees
JUMANJI (1995)
April 1 & 2 11am
Rated PG
104 mins
FREE
Family, Fantasy, Action
Robin Williams, Kirsten Dunst and Bonnie Hunt star in this phenomenal adaptation of the award-winning children's book. When young Alan Parrish discovers a mysterious board game, he doesn't realize its unimaginable powers, until he is magically transported before the startled eyes of his friend, Sarah, into the untamed jungles of JUMANJI! There he remains for 26 years until he is freed from the game's spell by two unsuspecting children. Now a grown man, Alan (Williams) reunites with Sarah (Hunt)and together with Judy (Kirsten Dunst) and Peter (Bradley Pierce) tries to outwit the game's powerful forces in this imaginative adventure that combines breathtaking special effects with an enchanting mixture of comedy, magic and thrills.
Tickets available at theatre box office March 31
Saturday, April 1
Sunday, April 2
Starts Wednesday, April 5
From award-winning director Ben Affleck, AIR reveals the unbelievable game-changing partnership between a then-rookie Michael Jordan and Nike's fledgling basketball division which revolutionized the world of sports and contemporary culture with the Air Jordan brand. This moving story follows the career-defining gamble of an unconventional team with everything on the line, the uncompromising vision of a mother who knows the worth of her son's immense talent…MORE INFO
Saturday, April 8 1pm
with special guests Director John Scheinfield and Blood, Sweat &Tears' drummer Bobby Colomby
Not Rated
122 mins
Music Documentary
A political thriller with a classic rock band at the heart of the action, WHAT THE HELL HAPPENED TO BLOOD, SWEAT & TEARS? is a feature-length documentary that unravels the details of the band's controversial Iron Curtain Tour, featuring present-day interviews with band members and historians, the unsealing of government records, and documentary footage that has been suppressed for over 50 years…MORE INFO
Saturday, April 8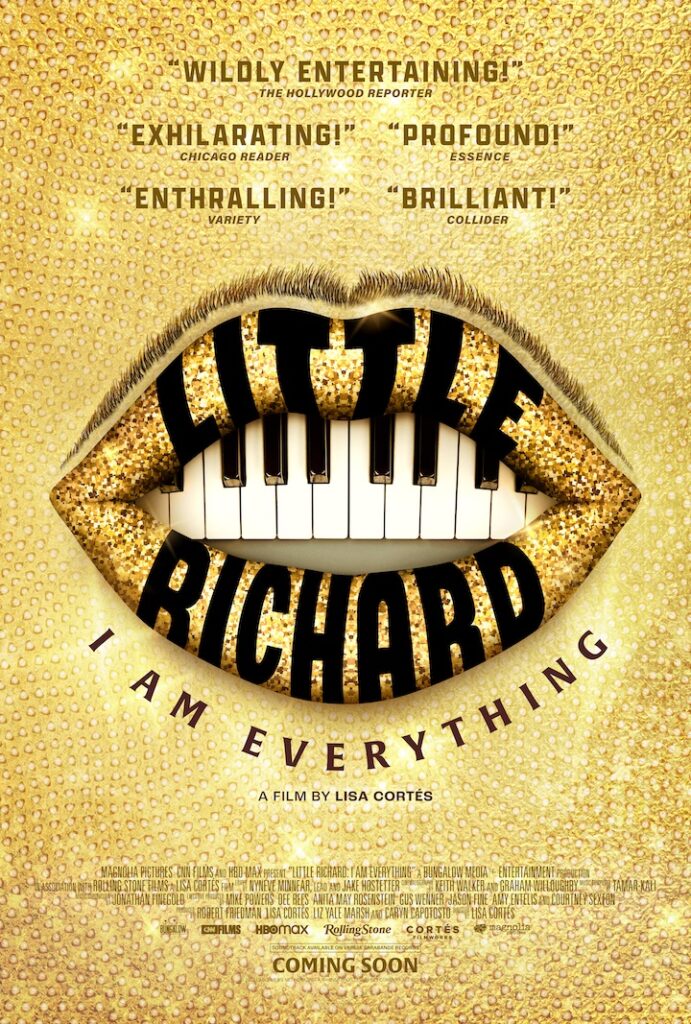 Tuesday, April 11 7pm
Not Rated
108 mins
Music Documentary
$15
LITTLE RICHARD: I AM EVERYTHING tells the story of the Black queer origins of rock n' roll, exploding the whitewashed canon of American pop music to reveal the innovator – the originator – Richard Penniman…MORE INFO
Tuesday, April 11
Rialto Big Screen Classics
BREAKFAST AT TIFFANY'S (1961)
Thursday, April 13 1pm
Rated PG-13
114 mins
FREE
Comedy, Romance
A young, carefree New York socialite becomes interested in a young writer who has moved into her apartment building, but her past threatens to get in the way. Starring Audrey Hepburn, George Pepard, Patricia Neal and Mickey Rooney. Based on the novel Breakfast at Tiffany's by Truman Capote. Directed by Blake Edwards.
Tickets available at theatre box office April 3
Thursday, April 13
Starts Friday, April 14
Not Rated
132 mins
Anime, Adventure
Suzume is a coming-of-age story for the 17-year-old protagonist, Suzume, set in various disaster-stricken locations across Japan, where she must close the doors causing devastation. Suzume is Makoto Shinkai's 13th directorial work, following Weathering with You's release in 2019, where the movie won "Animation of the Year" at the 43rd Japan Academy Film Awards. Shinkai won "Director of the Year" for his 2016 movie, Your Name., at the 40th Japan Academy Film Awards, alongside its success as the third highest-grossing Japanese film worldwide…MORE INFO
Tuesday, April 18 7pm ♿︎
Q&A with special guest Director Reed Harkness
Not Rated
97 mins
Documentary, Coming-of-age, Mystery, Adventure
American Hospitals takes a deep dive into the out-of-control cost of hospitals and their transformation into a money-driven big business. How can we incentivize hospitals to provide the highest quality care with the lowest affordable cost to the community? Join Healthy California NOW and its coalition of partners, including the California Nurse-Midwives Association, for a screening and discussion of the new provocative documentary American Hospitals: Healing a Broken System…MORE INFO
Monday, April 17 7pm ♿︎
Q&A with Special Guests following film
Not Rated
108 mins
Music Documentary
American Hospitals takes a deep dive into the out-of-control cost of hospitals and their transformation into a money-driven big business. How can we incentivize hospitals to provide the highest quality care with the lowest affordable cost to the community? Join Healthy California NOW and its coalition of partners, including the California Nurse-Midwives Association, for a screening and discussion of the new provocative documentary American Hospitals: Healing a Broken System…MORE INFO
Starts Friday, April 21
Rated PG-13
117 mins
Music, Drama
Inspired by the incredible true story of composer Joseph Bologne, Chevalier de Saint-Georges. The illegitimate son of an African slave and a French plantation owner, Bologne (Kelvin Harrison Jr. in a tour de force performance) rises to improbable heights in French society as a celebrated violinist-composer and fencer, complete with an ill-fated love affair and a falling out with Marie Antoinette (Lucy Boynton) and her court…MORE INFO
Starts Friday, April 21
Rated R
309 mins
Thriller, Comedy, Fantasy
A paranoid man (Joaquin Phoenix) embarks on an epic odyssey to get home to his mother in this bold and ingeniously depraved new film from writer/director Ari Aster. Also starring Nathan Lane, Amy Ryan, Michael Gandolfini, Patti LuPone and Parker Posey…MORE INFO
Starts Friday, April 28
Benjamin Millepied's CARMEN is a gritty modern day tale, with a majestic score by Nicholas Britell, and dream-like dance sequences that evoke magic realism. The story follows a young and fiercely independent woman who is forced to flee her home in the Mexican desert following the brutal murder of her mother, another strong and mysterious woman…MORE INFO
Coming Soon
Rated PG-13
112 mins
Documentary
Turn Every Page explores the remarkable fifty-year relationship between two literary legends, writer Robert Caro and his longtime editor Robert Gottlieb. Now 86, Caro is working to complete the final volume of his masterwork, The Years of Lyndon Johnson; Gottlieb, 91, waits to edit it…MORE INFO